TO TRAVEL OR TO PHOTOGRAPH? THAT IS THE QUESTION...
Hi, my name is Marco and I was born in Genoa, the historical port city in the middle of the Italian Riviera. My story begins here infact, after I graduated in Accounting and Finance, I found myself with an important decision to make: should I work in my father's photo studio or should I satisfy my great desire to discover the World, with no money in my pocket? "When you follow what brings happiness in your heart, you'll never go wrong" has always been my best guideline so, when it came down to it, my choice was really easy to take and at the age of 22 I took off with my first one-way ticket.
LONDON (UK)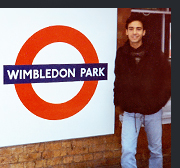 London was my first experience away from home, an important life lesson that confirmed my belief that the amount of energy you focus on your goal, is the key to its successful manifestation. I found that if you maintain a high level of confidence in the face of obstacles and remember your motivation then it's surprising how smooth and fast everything falls into place, as if everything is out to help you.
And so, in just a few weeks there, I was in London with a well-paid job as a waiter in a nice restaurant in Earl's Court, a beautiful house in Wimbledon Park shared with three good friends and an excellent salary that allowed me to attend an expensive English school in Oxford Street. After just one year, with nice job references, better English skills and a bit of money in my pocket, my Worldwide Passport was ready.
MARGARITA ISLAND (Venezuela), LAS VEGAS and CALIFORNIA (USA)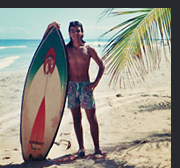 It was the right time to spread my wings and fly... and so I found myself in the Caribbean on the beautiful Margarita island where I was to spend 6 months working at the Hilton Hotel, in one of the best beach restaurant of the island. From the slow and quiet Caribbean rhythm, I turned to the frantic life of Las Vegas, getting a job in an Italian luxury restaurant inside the fabulous Venetian Resort Hotel. Living and working in the Sin City allowed me to get acquainted with the world of money: I met very rich and famous people and at the same time I felt the despair of those who worked very hard during the day to gamble & lose everything at night in the several Casinos of the Strip. A city with no time and with no limits, good for those who want an unforgettable holiday, bad for those who realize that it's all just a shallow, inauthentic limbo for tourists. Every day off was an opportunity for me to run away from Nevada, to discover the most famous beaches of California: Santa Monica, Venice Beach, Malibù and San Diego were my favourite swimming spots, even if I still remember how cold the Ocean was out there, understanding with every bit of my skin why in movies all Californian surfer always wear wetsuits. They were all great locations... but the place that really touched my heart and made me feel at home was much further away out there in the middle of the Pacific Ocean.
OAHU ISLAND (Hawaii)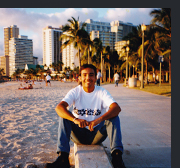 Hawaii welcomed me as if I had lived there all along: the Aloha Spirit of the locals, the strong feeling of being at one with nature and the ancient Hawaiian philosophy all lifted me into a charming magical dimension that I will remember forever. When I arrived, I was not sure that I would be able to make a living there, but as the Hawaiians say, I wouldn't get to decide on that one: "If Hawaii wants you stay, you won't have any problems to stay". And it was very nice to feel that Hawaii was with me infact I easily found a job in a restaurant in Honolulu, a cheap rent in Waikiki, good friends to share joys and sorrows and lot of spare time to enjoy ocean & surfing. What more could I want? Well, maybe a new Green Card with no expiration date. As it was, my Green Card expired and I couldn't renew it so, even if I would have liked to stay there forever, I had to leave my paradise and return to Italy.
GENOA (Italy)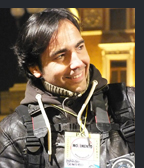 At this point I thought that maybe it was better for me to dedicate myself to my other passion: photography. I put aside travelling and took over my father's photo studio finding myself for the first time in my own business. I attended a private course with the famous Italian photographer Giuliana Traverso who taught me the real meaning of photography: the art of observing and capturing the soul of people, environments and situations. I remember that in our meetings we never talked about technique, lens or type of camera: her teaching was way beyond such mundane basics and to my question "how can I capture the soul of a person with the camera?" she replied in simple words that resonated deeply with me, words I will remember for ever: "you have to fall in love with what you want to photograph".
From that moment my concept of photography changed, as did my approach to everything I photographed. I also specialized myself in creative portraits, including model books, still life and interior design photography. I got the Web Developer Qualification (design and development of HTML/CSS web sites) and then, I got the Digital Graphic Design Certificate that helped me improve my technique and ability with Photoshop and Lightroom, discovering my hidden talent also for post production. After 5 years of hard work and with the satisfaction of having turned a small shop into the most profitable photo studio of the area, I felt that it was the right moment to leave the high-stress working routine that was taking over my life. It was a profitable lifestyle, but for me living needs to be more than profitable. Living is following what you love to do and that life was not what I wanted. So, I left photography and I returned to travel, looking for what I really wanted to do.
FUERTEVENTURA (Canary Islands), HOLBOX ISLAND (Mexico), ISTANBUL (Turkey), TORRI SUPERIORE (Italy)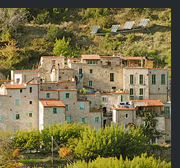 I took my faithful and indestructible suitcase and I moved for a couple of months in the Canary Islands, in Fuerteventura; then I arrived in Mexico on the beautiful Isla Holbox where I stayed for another three months. I attended a Nature Photography Workshop in Gran Paradiso National Park and, a month later, I was under the snow in the beautiful city of Istanbul. But it was thanks to the three months spent as volunteer at the Torri Superiore Ecovillage that I changed my personal life vision: I learned about the importance of a healthy sustainable living, how to build a synergistic garden, how a community organizes itself and I found out how nice it was living and working together in harmony with nature. I understood that living in a simple way is much happier and richer than an ordinary life passed running every day to maintain a lifestyle that just takes away the most precious thing we have: the time... the time to play with your children, the time to have fun with your friends and partner, the time to do everything that makes you feel alive and happy.
AITUTAKI ISLAND (Cook Islands)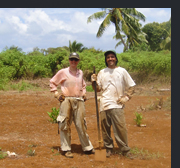 With this spirit, I left in March 2013 for Cook Islands, where I worked as wwoofer in a biological fruit and vegetable plantation. Also there, I met wonderful people, each one with their own history and experience, everything was enriched by the simplicity of the place and the beauty of the island of Aitutaki which, with its unforgettable atolls with white sandy beaches and turquoise water, proves that Paradise is already around us. The pleasure to photograph grew more and more every day until I finally understood what I had been looking for in a long time: traveling & photographing are my two great passions and I cannot keep them separate, they must coexist in one single activity if I want to follow my heart and not just my head... and the only professional activity that can give me this chance is the Travel Photography.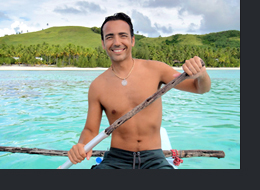 I do not know if this way will bring me success or not... what I know for sure is:
"When you follow what brings happiness in your heart, you'll never go wrong" so... let the adventure continue !!!
Thank you for stopping by and... see you out there ;)
Aloha Nui Loa